Tagged by DudleySpinner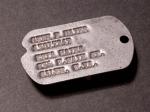 Tagged again
Dudley Spinner got me on this one. I love these tagging things. It saves actually having to come up with a column by my little old lonesome.

It's the Tag of Fours.

Four jobs You've Had in Your Life:

1. Police dispatcher / 911 Operator -- for the City of Fredericton, handling police, fire and dogcatcher calls for Fredericton, Oromocto, New Maryland, Nashwaak Valley, Woodstock and points farther afield.

2. Front Desk Manager at a hotel.

3. Soldier

4. Farmer -- I had my own strawberry farm and bee hives when I was a kid.

Four Movies You could Watch over and over again.

Uhhhhhhhhh, I'm not a movie person. Lion in Winter. Maybe. Books on the other hand…those I can read and re-read. Perennial favourites:

1. Saint Maybe: Ann Tyler

2. Stranger in a Strange Land: Robert Heinlein

3. My Name is Asher Lev: Chiam Potok

4. The Tragedy of Richard III: William Shakespeare.


Four Places You have Lived

1. Fredericton, NB, Canada

2. Burton, NB, Canada

3. Angus, Ontario, Canada

4. Moose Jaw, Saskatchewan, Canada.

Four TV Shows you love(d) to Watch

1. Law & Order (original version)

2. Daziel and Pascoe

3. CSI (Vegas)

4. Any of those completely bogus British mysteries that are neatly wrapped up at the end by the death of everyone including all the suspects.

Four Places You've Been on Vacation

1. Kouchibouquac National Park, NB, Canada

2. Prince Edward Island.

3. Los Angeles, CA -- yeah, did the Disney thing too.

4. Calgary and Edmondton, Alberta

Four Places You Want to Visit

1. Boston - all good Maritime girls need to go to Boston before death or they won't let us into Heaven. Fact.

2. Scotland

3. Newfoundland

4. The Yukon territories.

Four Websites You Visit Daily.
1.

Arseblog



2.

The Guardian on line



3.

Cycling news



4.

You Knit What??



Four Things on the Floor or in the Trunk of Your Car/Truck
1. Ice scraper.

2. Snow brush

Hmmmmm, I'm actually pretty anal about stuff being left loose in the passenger compartment of a vehicle. Anything that can become a missile upon impact is not cool in my books. That's what you get for hanging around accident reconstructionists all day

Four People I'm Tagging:

1. Diana, the Dysfunktional Knitter
2. Jackie, One Thread, Two Thread
3. Dancing Barefoot
4. Liz, who probably won't have a chance to 'blog because her head is stuck in the Peloponnesian War.

That's my lazy arse post for the day. Back to sticks. I suspect we have achieved -- drum roll please -- Silk Shawl Border Breakthrough -- tune in tomorrow for details and/or disappointment. Talk at you'se all laters; thanks for reading.